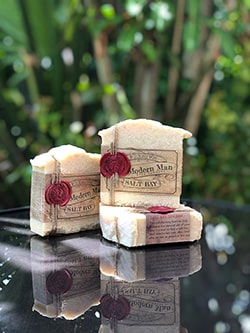 Supercharge your skin care routine by bathing with salt soap.
Sea salt is a fantastic cleanser. Heavy in minerals like magnesium, calcium and potassium, salt soap removes dirt and toxins and leaves your skin sparkling and fresh.
The natural antibacterial properties of salt make it a great choice for those who suffer from acne.
Salt soap does not dry out your skin. On the contrary, salt maintains the skin's natural barrier, helping to keep moisture locked in.
Salt soap is fantastic at exfoliating your skin, buffing away dead skin cells and giving you a more youthful appearance.
People with sensitive skin can benefit from using salt soap. Those with eczema, psoriasis, or acne will find salt soap helps to reduce inflammation, redness and irritation.
We call our salt soap bars, spa bars. And we do this because of how good your skin feels after you bathe with one of our salt bars. The Black Dragon and the Salt Bay salt bars are two of our most popular bars of soap. It is our hope that you discover why.