Cold process has been around a long time. It's thought that the method originated around 2,800 B.C. Where the Babylonians, Egyptians, Greeks and Romans used the method to make soap. In Scotland the art of soap making was introduced by an act of parliament that encouraged persons possessed of either capital or technical knowledge to settle and create new industries. The first soap introduced to Scotland was a brown soap which consisted of oil, tallow, rosin and a caustic solution. Today's soap is made from more advanced ingredients, but the principles remain the same.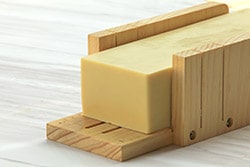 Cold process soap is made from all natural ingredients. Unlike commercial soap, which contains chemicals, cold process soap helps to minimize dry, itchy, skin. Commercial soaps are made in mass quantities and need preservatives because they can sit on a shelf for years. Many of these preservatives (chemicals) have been shown to lower testosterone levels, and contribute to male infertility.
Commercial soaps are made for mass consumption and therefore have to be tailored to a generic brand that is acceptible for most skin types. The cold process soap bars made here at the Modern Man Soap Company are hand made in small batches and tailored to specific skin types. Hand made cold process soap bars are made with hand picked ingredients and the scents have a full range. Instead of a mass appeal scent.
The cold process soap bars created here at the Modern Man Soap company are made by the finest soap artisans in the world. And with the many soap choices available at modernmansoap.com, they have created a bar specifically for you.