My Grandfather used his soap for everything. I mean EVERYTHING. He washed his dishes with it, cleaned the oven, and, of course, used it in the bath. But, he also washed his hair with it. I always thought that was strange. Then, as I was converting over to natural bar soap, I took a look at the ingredients in my shampoo. Cocamidopropyl Betaine, Sodium Laureth Sulfate, Propylene Glycol, Alpha-Isomethyl Ionone, Polyquaternium-10. What the heck? No wonder half my friends are goin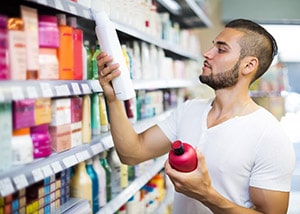 g bald.
So, I tried it. I used his bar soap as shampoo. It was surprisingly easy to use. But, I didn't like it. It made my hair feel stringy and dry. However, since then, we've developed a bar that uses Argan Oil, which is really good for hair. I use this bar on my beard, and it works amazingly. So, I tried using this bar on my head, and it worked. It did what it was supposed to, but, this was, what I consider to be, a mediocre result. I don't like to accept mediocrity. Mediocrity is not something we strive for, here at Modern Man Soap. The An Rèidh is a great bar for hair and skin. But, we needed something that was specific to hair. So, we went to work.
I wanted to develop a bar that not only cleans your hair, but, makes your hair feel amazing. Well, we are proud to announce, we've developed two shampoo bars that we are extremely proud of. The first bar will be released to the public in about a week. It's a Shea Butter based shampoo that feels great in your hands and moisturizes and nourishes your hair. I use this shampoo soap everyday and am extremely pleased with the results.
The second bar, is an Argan Oil, Coconut Milk and Shea Butter shampoo bar. This is our anti-dandruff shampoo bar. The Argan Oil gently moisturizes your scalp which fights the dryness that causes dandruff. This bar will be a little more expensive, but, if you have scalp issues, it will be well worth the extra cost.

We believe the Coconut Milk and Argan Oil Shampoo Bar to be the best shampoo ever produced. You really need to try it. We're confident, if you do, you won't ever go back to your chemical laced bottle shampoo.