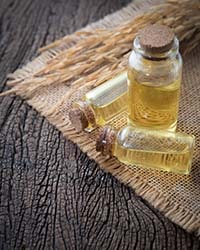 Rice bran oil contains various nourishing vitamins and minerals, including vitamin E, that are wonderful for the skin. It's highly moisturizing and perfect for people with sensitive or mature skin.
The lather produced by rice bran oil is smooth and creamy. Which makes the soap bar, not only very cleansing, but, great feeling, on your skin. The rice bran oil works very well for those who have sensitive skin. Which makes for an extremely gentle bar of soap.
Though the science is not conclusive, it is believed that rice bran oil has properties that hinder UV rays' absorbtion into the skin. This may help to maintain more youthful skin. The fatty acids in rice bran oil help to moisturize the skin which may be beneficial for those with dry skin.
We now offer our Samurai bar soap which is made using rice bran oil. This bar is also embedded with poppy seeds which offer an amazing exfoliating experience in your shower. The creamy lather of the rice bran and the exfoliating power of poppy seeds make this, we believe, one of the best soaps ever made.