When our founder was gifted his Grandfather's soap recipes, they were, of course, being from the Scottish highlands, all made with Lamb Tallow.
But we thought it important to implement vegan alternatives into our soap catalog. So we began by researching Lamb Tallow alternatives. We found that Palm Oil made an excellent replacement for tallow in soap recipes. But, while researching Palm Oil, we found some very disturbing facts about the product.
Palm oil is widely used in many different cosmetics. In fact, odds are, if you are using a vegan bar soap, it's made with Palm Oil. Palm oil is a cheap, vegan alternative to tallow and is readily available.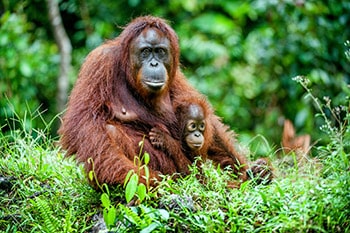 Because Palm Oil is such a successful product, many farmers are converting their farm land into Palm Oil farms. In South America, the industry is so prevalent that farmers are deforesting the rain forests to build Palm Oil farms. This deforestation, besides contributing to global warming, is also contributing to the eradication of many animal habitats. Chief among these being the Orangutan; where in the past 16 years, some 100,000 Orangutans have disappeared.
So, to us, this defeated the whole purpose of offering vegan, soap, alternatives. Modern Men love the Orangutans and the other creatures of the forest. So, it's important to us that the ingredients we use are not harmful to the environment. So we decided that no Modern Man Soap will contain Palm Oil. Even if labeled, "Sustainable", there is very little in the way of knowing where that Palm Oil comes from and if it actually is farmed in a way that isn't bad for the environment.
So, we kept at it. We experimented with many different recipes, using many different ingredients. It wasn't easy, but we succeeded. We had our first success with the Argan Oil based An Rèidh soap. Which is an excellent soap for use on men's beards. Based on the success of that bar, we were able to create more vegan soaps that we absolutely love. And we can proudly say that our vegan soaps, are not only Palm Oil free, are the best vegan soaps you can find anywhere.
Because of the amount of labor we put into this endeavor, we are very protective of our vegan recipes. In our opinion, these are the finest, all natural, vegan, bar soaps available. We love them and we know you'll love them too.
If you would like to learn more about Palm Oil, here is an excellent article about the subject.