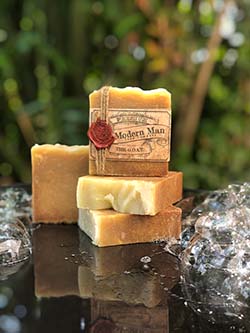 Honey is a popular ingredient here at Modern Man Soap company. In fact it was the main ingredient in our founder's Grandfather's recipes. We have many different kinds of soap available here at Modern Man Soap, but honey soaps remain close to our hearts. And, indeed, honey soaps are among our favorites for good reason.
The natural sugars in honey help to increase lather in soap. Our honey soaps have a really rich lather which contributes to a satisfying bathing experience.
Honey is a humectant. Honey absorbs moisture from the air which helps to keep your skin moisturized.
Honey is loaded with antioxidants which help to limit damage from free-radicles. This in turn lessens wrinkles and slows the skin's aging process.
If you suffer from problem skin, honey is something you should try. Problem skin can be caused by the bacteria living on your skin. Honey helps to balance your skin's bacteria, which makes it a great ingredient for those who suffer from problematic skin.
Honey is a great ingredient in soap. The many skin benefits are great, but we love the way the lather feels in the bath. We have a few honey bars available that you should definitely give a try.