Introduc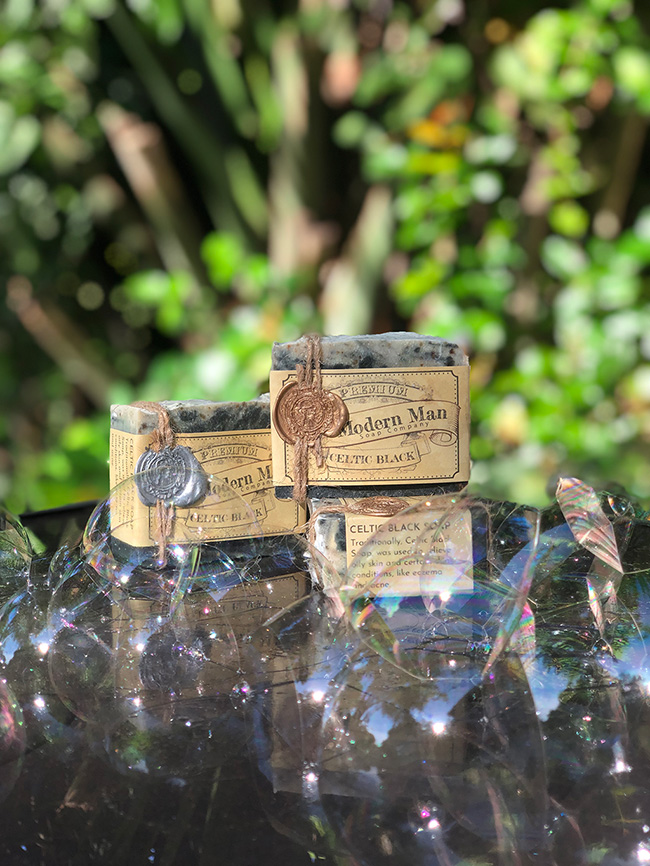 ing Celtic Black Soap: Unveiling the Essence of Luxury and Tradition
Experience the allure of Celtic Black Soap, our exquisite interpretation of the beloved African Black Soap. Crafted with a harmonious blend of natural ingredients, including raw shea butter, coconut oil, apricot kernel oil, sweet almond oil, kale, castor oil, canola oil, and enriched with the captivating scent of leather, this exceptional soap bar embodies the essence of indulgence and timeless tradition.
Luxurious Hydration:
Celtic Black Soap is a testament to the power of nature's finest ingredients. The inclusion of raw shea butter, renowned for its emollient properties, ensures that your skin receives the utmost hydration and nourishment. Immerse yourself in a luxurious lather that leaves your skin irresistibly soft, supple, and enveloped in a velvety touch.
Skin-Enhancing Blend:
Our carefully curated blend of coconut oil, apricot kernel oil, sweet almond oil, and kale works harmoniously to revitalize and rejuvenate your skin. These exceptional ingredients, brimming with antioxidants, vitamins, and essential fatty acids, promote a youthful complexion while enhancing the overall health and radiance of your skin.
Cleansing with Charcoal:
Activated charcoal takes center stage in Celtic Black Soap, harnessing its remarkable purifying properties. This natural detoxifier gently draws out impurities, excess oils, and toxins, leaving your skin feeling deeply cleansed and refreshed. Embrace the revitalizing effects of charcoal as it purifies your skin, unveiling a renewed and vibrant glow.
Aromatic Sensation:
The scent of leather, skillfully blended into Celtic Black Soap, evokes a sense of timeless elegance and rugged sophistication. Immerse yourself in the essence of luxury as the captivating aroma envelops your senses. Allow the scent of leather to transport you to a realm of refinement, where indulgence and tradition intertwine.
Unveil the Secrets of Celtic Black Soap:
Elevate your bathing ritual with Celtic Black Soap, an embodiment of natural skincare excellence. Our artfully crafted soap bar unites the potency of raw shea butter, the richness of essential oils, the detoxifying properties of activated charcoal, and the captivating scent of leather. Experience the harmony of luxurious hydration, skin-enhancing nourishment, and the aromatic allure of Celtic Black Soap.
Immerse yourself in the splendor of tradition and awaken your senses to the essence of luxury. With Celtic Black Soap, indulge in a truly remarkable bathing experience, where age-old wisdom meets modern sophistication. Treat your skin to the lavish care it deserves and embrace the art of nurturing yourself, one lather at a time.