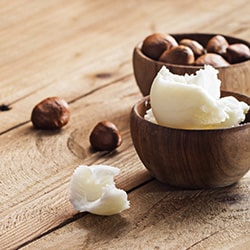 Shea butter comes from shea trees which are native to West Africa. Fat is extracted from the nuts of the shea tree to create a butter. This butter has been used for centuries in cosmetics and related products.
Shea butter is high in Vitamin A and Vitamin E which gives it antioxidant properties and helps to rebuild cells. Shea butter resists skin conditions such as eczema, psoriasis and dermatitis. It soothes burns and resists wrinkles.
Shea tree products have been known to have anti fungal properties. These can help to defeat infections on your skin.
Shea butter can help to clear excess sebum from your skin. This can help to prevent acne.
Shea butter contains triterpenes, which help to prevent collagen fiber destruction. This is why shea butter is considered an anti-aging ingredient in soap.
In Africa, shea butter was first used to protect the skin from the sun's damaging rays. The natural UV protection of shea butter has been estimated to have a rating of around 6.
A natural moisturizer, shea butter, contains fatty acids like linoleum, oleic, stearic, and palmitic acids. These fatty acids can form a barrier between your skin and the environment, helping to retain moisture for your skin.
But most of all, shea butter is an all natural ingredient that is low in proteins that trigger allergies. Young or old, light complected or dark, shea butter is a gentle and rejuvenating ingredient that everyone can benefit from.
We have a some awesome shea butter soaps here at Modern Man Soap Company. Give them a try, we know you'll enjoy them.